Beneath the links below you can read how my first orb came consiously on my way, in this sense of that I became aware of it, but ALSO what happened after sincethis particular orb ;-) Click on the links beneath to read my rather somehow funny orbs and ecto story .....
The decision to have a litter of pups with Beauty
A strange but a beautiful experience at 4 o'clock in the morning
My first digital camera for my birthday!
A strange object on one of my photos
... The end result ... 2 puppies !!!!!
No no ... The story isn't on it's end yet!
Ecto versus a friend who suddenly became pregnant after 1.5 years!
The shooter which helped doggy Trixie to pass over ...
Oh oh oh! 4 orbs above my cat ... LOL!
... And than I did send at once an e-mail to someone who knows more about orbs ...
My second digital camera which I gave myself as a birthday present ;-)
... OOFFFF! REALLY REALLY MANY ORBS LOL!
And than ... My cat did get 5 kittens!
---
Quite a long time, in an active way since my 15th, I'm busy with spirituality and spiritual developing ... Still MUCH longer, from since I was 8 years old, I'm busy with photography as a pure hobby. I'm just taking pictures for fun and mainly I like to take pictures from special occasions, beautiful landscapes and my pets in an often way, so once I shot a picture from a marvellous rainbow, but also nice sunsets and a few really marvellous back light pictures with flash of my doggies, especially with my Samsung analogue camera which I purchased myself 10 years ago for 300 guildars, but than you've got a nice compact little camera with zoom lens and 50 functions which I don't use all of them, I like to shoot pics in the "manually change settings" way, so all those effects are fun, but why you just don't scan this picture and go and get along with Paint Shop Pro or so, but okay ...
I never had any orbs or other light phenomenas on my analogue photos, allthough I started to realize since 2005, that I've dreamed about black, grey and white transparant ball like things when I was a kid in those earlier times and I dreamed that those ball like things were in the hallway near the piano, this same dark piece of place where I met my head guide Cioaing for the first time! I didn't only dream about those ball like things, I SAW them 1 time! 10 of them or something like that of those small balls just moving through each others and they stood on 1 place just hanging there and moving ;-)
This, with those ball like things, happened only 2 times at least, it was strange to me and it would be taking a very long time before I saw the first picture with an orb on it! I was open minded on those pictures, in this way that I was convinced that orbs do exist, but nothing more than that ... Until I MYSELF shot my first picture with an orb on it in 2004! How this went, you can read it further on below .....
---
The decision to have a litter of pups with Beauty
In 2001 I once did have a litter of puppies with Jessy, my nearly youngest Shih Tzu. Actually I did like that so much, that I wanted to have a litter of puppies with Beauty, my youngest Shih Tzu. The best period of time to start a litter with a bitch is when she's nearly 2 years old, and so this was the situation with Beauty which became in heat for the 3rd time in the end of February 2004 ...
And so it happened that I went to Jessy's breeder (who has Shih Tzus too) together with Beauty on March 5 and March 7 2004 to let her mate. Both matings weren't that much with success 'cause Sammy, the male, couldn't stay coupled, so stucked, so on March 5 the mating only last for about 10 minutes, on March 7 only 5 minutes, while a male had to stay coupled on a bitch for about half an hour, for breeders a good sign that a mating oftenly has been successful! Shamely it were just 2 short matings so as Jessy's breeder as I myself already thought that I came too late with let Beauty mate, but referring to my countings it wasn't possible, 'cause I always know when Beauty starts to get her heathing period, 'cause she always has a very bad mood the evening before it starts LOL! But okay ... We had just to wait if she would be in a well expected pregnancy ... A rather exiting period was coming, 'cause, allthough Jessy stood coupled for half an hour too when I let her mate for the 2nd time 'cause I wanted to have a 2nd litter with her, she finally had a false pregnancy while she had 6 puppies for the first time and because I do know my clanny in this way, things could go on in a funny way, but honestly saying I was somehow sceptic about the situation .....
---
A strange but a beautiful experience at 4 o'clock in the morning
Exacty 1 week later, so it was around March 13 2004, I was fallen asleep on my sofa and yeah ... I do this quite often LOL! In one of another way I suddenly was clearly awake ...
Beauty lay down in front of my upper legs and suddenly I saw a fast flash going from above to beneath, it wasn't a ball or it weren't balls, but it seams to be a wide bride's veil existing of bright white, glowing and nearly purple fluorized smoke (as if you have an ashtray on fire and there comes a wide veil of smoke from it, but allthough I do smoke, my ashtray wasn't on fire!), but it was going so fast and I did see int from out of my eye corner ...
I didn't surely know if I really saw this, 'cause I only can see 24 per cent with my left eye and with my right eye I only see for about 0.56 per cent, so that isn't that much, but I can do a lot with it ... I've seen this from out of my right eye and also a piece from out of my right eye corner of my left eye so I wasn't that sure at all, but it was rather weird!
But well ... I saw this glowing smoke like energy going into Beauty, but immediately after this I did get an affirmation by images as if it happened again in slow motion (and I have this often when I feel energies!) and I thought "Wow, is this the moment now when a club of cells get it's shape to an embryo and do this embryo get a soul right than?" After that, I saw images of a BBC documentaire I've seen on TV some often (this one with Kitaro's music in the background) where it was filmed which pathway a sperm cell is going from the beginning to the end and finally it fertilizes an egg cell and that this egg cell is starting to turn around against clockwise and all what happened after! This was so magicly beautiful! Why I was supposed to see this? I don't know!
Allthough I told this to a friend by phone, I didn't pay any attention to it, 'cause, still I did have my hesitatings on Beauty if she was in a happy pregnancy by than .....
---
Allthough I did have a rather good webcam (unfortunately it's broken), a Philips 2UCam with which you could take pictures damn well and it was filming also perfectly, 'cause it had a such good back light reductor which was so good that it didn't make any sense on this webcam if the sun was shining on it or it was so dark that you hardly could see anything and there only was a monitor on from where this cam could get it's light, as soon as there was any light, this webcam was filming very well and shot pictures very well too ...
But yeah ... I did have this problem in 2004 that my old computer just didn't want to accept my webcam, and in what way I re-installed my webcam on my computer, it just didn't take any image ... I was somehow upset, 'cause what if Beauty would get puppies and I actually wanted to put her labour on video! To develop film rolls it's an expansive hobby and besides this, I can't make any videos with my analogue camera ... A webcam, nevertheless if it was working or not, isn't a digital camera and you can't put them off of the USB port to make a video from something on the other side of a living room and besides this I didn't have a laptop in that time of period. I really was upset, 'cause I didn't have money too to buy a digital camera in that time .....
Somewhere in the beginning of April 2004, around April the 5th, I went to a friend in Deventer OV (I myself live in the neighbourhood of Eindhoven NB), and so it was just 4 weeks that Beauty should be in a happy pregnancy, but I didn't see anything from theoutside and often you don't see this yet in this stadium, a dog has to be 6 weeks pregnant, but if a mother bitch does have much puppies in her belly, than you should see at least something with 4 weeks, like swollen nipples and so on ... I didn't feel something yet too, so if there was something, it won't be many of them, but well ...
I went to Deventer OV to a friend of mine, also 'cause I wanted to visit some internet friends in Zwolle OV and Deventer and Zwolle aren't such far away from each others (both in OV=Overijssel, a region in the Netherlands, like NB=Noord Brabant is too.), so I could manage it nice together ...
So on Monday April 12 2004 I went to Zwolleand it became an unbelievably cool day! Really nice persons those friends which I saw them for the first time and I took my doggies with me and so, really quite nice! Just having some coffee and so ... We have been talking nice to each others and they showed me some videos with recordings they made themselves in Euro Disney Paris and we ate Chinese food too ...
Before I wanted to leave at 7 o'clock in the evening to Deventer, the man from the house came to me with a digital camera! He said "Well, now you haven't to be concerned about the fact that you can't put Beauty's labour on pictures, Here you JUST get a digital camera from Trust as a present for your birthday from us together." Euhm ... OOONK! I only knew those persons by internet and I saw them for the first time IRL and SUDDENLY they JUST pushed a digital camera in my hands ... Okay, it wasn't the most expansive spiece and inside a home it doesn't shoot that good pictures, but you know there's a Dutch proverb which tells you that you've got not to watch a horse in it's mouth when you've got this horse as a present, so well I didn't ... And honestly, I really was very glad with it!
So, that evening I went to Deventer again in a very happy mood and with digital camera and I supposed to stay 1 week overthere in Deventer ... And yeah, you know that, a new lil' toy, so those first days I've been taking many pictures with my first digital camera, so I shot also pictures that evening when I came back from Zwolle in Deventer when 2 of my 4 doggies, Jessy and Beauty, were tired andwere just comfortable on the sofa, allthough I didn't have a laptop yet whereon I could upload the pictures, so I had to do this at home and I had to save my batteries a bit 'cause there wasn't a separat card in my camera, but a static memory card, otherwise shooting those pictures would be for nothing .....
---
A strange object on one of my photos
When I finally was home again, I installed the software of my Trust FamilyCam digital camera which was on a CD within all my other Trust digital camera stuff ... Now I have to tell you it was a surprise for me what I've been shooting around on the pictures, 'cause there's not an LCD display in a Trust FamilyCam digital camera, so you can't see and watch your pictures before you upload them ...
So I went on uploading pictures on my computer and 1 photo, that one was a photo which IMMEDIATELY pulled my attention and I thought "Whowy! This one I've got to save, whatever happens!" Overhere the picture 2 times ... The first one is the non-edited picture, the second one is the same photo but I made it somehow lighter. Just click on the thumbnails to enlarge them!
So this is THE photo you see ... On the photo you see Jessy (left in the back) and Beauty (right in the front) on the sofa together with some mess, even the box where the Trust camera was in! Straight above Beauty you see a bright and somehow blurry object, but it's round shaped though and it seams to move itself diagonal!
Overhere again the zoomed in part of the orb ... I guess you've seen that one before several times ;-) Again click on the thumbnail to enlarge the photo ...

You can clearly see that this is a ball shaped object which is in movement! In a very blurry way you can see some structure in the orb and right below of it, rather well seen, there is a piece missing. Some persons could get a dog's head out of it, but I've never been so far, allthough I oftenly get things out of orbs!
When I saw this photo I immediately knew "This is bizar, this is weird, I think this is an orb or so, 'cause I never saw this like that, I do on other pictures, but huh?! Now there is one on a picture I shot!"
But ... How is it possible that such a simple little camera I just had for a few days could shoot an orb?! I went on thinking and trying to re-find out things ...
... Maybe it was a hair or so which was hanging in front of the lens, 'cause I do have long hair and with a flash against it ... No, 'cause you should see more blur and reflection ...
... Maybe it was the lamp, well no that wasn't possible, 'cause this one was hanging behind me and I stood in it's light of that lamp, so you should rather see my shadow on the sofa in an earlier way ... Besides all this I shot this picture on Monday April 12 2004 around 22:00h., so in the evening ...
... Maybe it was a speck on the lens ... Well no, than you had to see this as a dark object seams to me, 'cause the light of a flash only reflects if it comes against an object and if that one is on the lens itself a flash can't reflect anything LOL! Besides that, this object will often become blurry too!
... Maybe it was an object which could give back light like a little loop of an oar or leash or so, or whatever, but yeah ... My doggies always wear their small leashes around their necks, but the only metal things on them, are the little rings whereon you can put the leash on, so it's possible that this COULD give some back light, but never that much and in a such intens way ... The only back light object which were in the neighbourhood of the sofa in an somehow way, was the shelve below the window there you can put on things, and this one was just out of the image and besides all this, the curtains were hanging over it and in front of it too ...
Well ... I can show you the situation by a scrap and just draw out how my friend's flat looks like ... It is a small flat on the 2nd story, so the light from the street lights wihc shines in, is somehow excluded, also 'cause the curtains were closed, those curtains aren't completely dark ones and there do come rather a lot of light through, but not direct light. Besides this, there are a lot of trees around the flat which break the street light's light ...
The TV (which is standing on a cupboard from out of the above pictures' perspective, but this is outside the picture image) was off, like the kitchen lamp was off too, as the hallway lamp as the little lamp above the heater were, by the way, the cap over the heater is an iron one, so this will reflect if a camera's flash comes against it, but this back light must be in the same reach as the flash, and as you can see on the drawing of a situation's scrap like the situation was on that moment below this text, this heaterwas on the left behind me from where I was standing.
Above the sofa there's a window though, but the curtains in front of the window were closed, like I took the picture far below the window's shelve (which is around 1.50 meter above the floor), if the flash reflected on that, than it would give a back light effect, 'cause the window's shelve is made from a sort of plasticised wood ... In the sofa there is a very faint shiny texture, but for the biggest part it's just a normal textile sofa which, because this sofa is so dark, absorbs more light than that it reflects!
Tere isn't any material on the floor which causes reflection, 'cause in the living room there is carpet which doesn't reflect at all and in the hallway and the kitchen there is vinyl, so it could be possible that this can reflect, but the kitchen was right on the left of me and the hallway was nearly diagonal left behind me! I do wear a nose piercing and ear rings, and I do wear quite a lot of rings, but they can't cause this effect like that ... The only thing which is left than, is something very beautiful!

So overhere above you see the situation's scrap like it was on the moment I shot the picture ... Again click on the thumbnail to enlarge the picture ... On the left side of the little plan I draw in a schematic way from which position and perspective I shot the picture and in what way I handled the camera, also you can clearly see that the way how the light was going, was coming from behind me, it went besides me thoug ... On the place where I was standing there you could see shadow which is going over the coffee table in a speading way and finally the shadow goes over the sofa you've got to imagine that one on the dagonal left in front of me ... The lamp is a hanging lamp from where the cap is at around and about 1.70-1.75 m. hight seeing it from the floor and it's such a lamp with a cap, so where the cap is, there isn't light at all. There is a spare lamp lightbulb in this lamp which is I thought 40 watt, that's giving a rather bunch of light, but not enough to, certainly not with that Trust FamilyCam, get nice light photos in the evenings inside buildings, allthough the Trust FamilyCam's flash is much stronger as that lamp actually .....
The blue ball like circles you see here and there are the lamps which are off, the red ball like circle in the middle is the lamp which is on, the red/yellow arrows show up how the light is spreading and the somehow purple arrows show up how the light would be reflecting if a flash would come on reflective objects ... Beige objects are cupboards, brownish narrow objects are windows and bright blue narrow objects are doors, the pink/orange like object somehow in the middle of the drawing is the heater, the wooden colored objects are the dinner table and the coffee table, the dark blue/purple like striped objects are the sofas, a een 2-seats one and a 3,5-seats one, the transparant squares around some windows suppose to be curtains, gheeh! I have been drawing myself too 'cause that's just easy (nearby the coffee table) ... LOL!
As you can see that there isn't coming that much light near the sofa, especially not if you are standing uptight taking a picture, 'cause it's dark above 1.75 m. 'cause the light from the lamp doesn't reach that place, and if you are also standing in the light by yourself, half hanging over the coffee table and I'm 1.66 m short., than there really doesn't come that much light ;-) It was dark in the kitchen (left below) and in the hallway (right below) it was dark too and the doors of the gass & electricity meters' cupboard and from the bathroom ((in the middle below) were closed ... The door between the hallway and the livingroom was open though, but I was standing with my back to it in a somehow way!
And if you are looking well on the photo, you can see on the left above near the sofa's leaning part on the side that you can see somehow some light from the lamp behind me, but just watch how less and few this light actually is! It was EXCLUDED that it was back light!
---
Again I went on having a closer look on the photo, and again, I showed it to others, I went on looking at it again by myself ... I discovered that there were 2 energies right below this bright orb, just above Beauty's head ... For me this ACTUALLY were THOSE 2 energies which get me relaxed that Beauty was in a happily pregnancy, gheeh! But still I wasn't sure ... But, really funny, I could get 2 puppies out of it, but maybe it was a bright projection from out of that bright orb, maybe it wasn't though, but well ...
I went on watching the photo again and I could feel energy near Beauty's butt, I could feel energy on the right of that orb, GOOOOSSSSHHH! This photo was FULL of energies, gheeh!
Than, I went on reading this photo ... I actually do read photos from other people and pets now and than and further on I do have a working project to do like a pass over channeling even by telephone TOO, so it isn't that strange to me at all ;-) Allthough I know that, when I'm really in the mood I can read photos rather well, but well I'm a human too so not that perfect, but much what I'm feeling now, it will come out in a somehow way within 10 years or so, and also with THIS I do have several experiences ... But well ... I went on reading that photo, 'cause I wanted to know in a certain way how those things were ... It was funny in a somehow way, that I couldn't get that much through actually except a warm good feeling and a feeling like "It will be allright" ... I think this was also the only thing this energy on the photo had to tell .....
... Allthough I had to wayt for another couple of weeks and 1 week already passed by and rationally seeing I started to hasitate again, 'cause allthough Beauty had to be 7 weeks pregnant yet, I didn't see anything, only swollen nipples, but the year before I let Jessy mate for the 2nd time and she had a false pregnancy and in that case the nipples are swollen too, so in a somehow I was anxious that Beauty had one too ...
So we went on having an exiting time in that way, allthough that orb didn't let me go in a somehow unconsious way, 'cause why would you see such an energy, that's not for nothing, is it? Beauty had to be 8 weeks pregnant in a meanwhile way, but except swollen nipples there wasn't to see that much, yet, in the 9th week there was a somehow little belly to see, but still ... Maybe she had a false pregnancy ...
So overhere 3 photos of Beauty when she was going nearby the end of her pregnancy somehow! There is something to see, but if that's so really clear? No ... The 3rd photo I even shot only a few days befor her labour .....

Overhere a photo of Beauty's nipples ... You can clearly see, allthough I have to admit that this is a somehow blurry picture, that the nipples are somehow swollen, but when doggies do have a false pregnancy you see it like this too and it even can in that way that they will be fully developed too! But actually this was the only sign from the outside you could see that Beauty was having a happily pregnancy ...
Only 3 days before Beauty's labour I could feel the puppies moving, but yeah ...How many of them would be there than huh? There couldn't be that many puppies, 'cause when Jessy had her pregnancy I already could feel the puppies when she was 6-7 weeks pregnant! But yeah ... She did have a litter 6 of them, gheeh!
It was yet clear to me that that orb on the photo above Beauty wanted to tell me something, that it would come allright, well, and so id did indeed!
---
It was my birthday (May 3 2004) when I discovered in the morning that Beauty had a lower temperature as usually, and you haven't to explain to many dog breeders that there will be a litter of puppies on Earth within 24 hours! But well ... That evening I went to bed just having a relaxed feeling and even later as usually 'cause I was counting on the fact that the puppies would come the next day in the afternoon ... So NOT!
That morning on May 4 2004 I woke up somewhere and around 9:30h. because I heard a sound and I thought: "Heey I KNOW that sound! This sound sounds like a new born puppy ..." A sound which you can recognize out of THOUSANDS sounds too, especially if you do have some experiences with breeding dogs! I still was hals awake, so somehow drunk of sleepiness and at first I had to woke up to determine the which direction where that squeaky sound was coming from. Beauty sat in front of me on the sofa just looking at me like "Hey there came something out behind me but I don't know what I've got to do with it." (It was her first labour) ... Finally I went on having a look beneath my sofa and yeah, indeed there was a new born puppy squeaking in a very strong and loud way 'cause he was hungry and he was cold, even the placenta was still connected with him, but the sack was neatly eaten away! The second one, a bitch (female), was born half an hour later and that one I've seen her coming out ... Beauty only had 2 puppies ...A male and a bitch!
As you can see on the 2 photos, mother Beauty was actually glad with her kids Charlie (the male) & Zita (the bitch)!
Overhere again 3 nice photos of the puppies ;-) The first 2 photos are how they were sleeping (than they were (on the first photo) 2 weeks and (on the second photo) 3 weeks old) and the third photo is when Charlie and Zita were something like 6.5 weeks old and they were nearly allowed to leave! Finally they both found a perfect warm home, but the rest I'll keep this for my clanny stories ;-)
The labour was short but with strength, but it won't say it was less emotional than Jessy's labour in 2001 when she gave birth to the extraordinary number of 6 puppies, which especially for the first litter is quite extraordinary, especially for a Shih Tzu, which do only get 1 till 4 puppies the first litter, sometimes 5! Well, the rest of the stories about my clanny you can read beneath the Pets link ;-) Though life can be so beautiful ... And than just think about the that an orb was able to be the messenger in this case!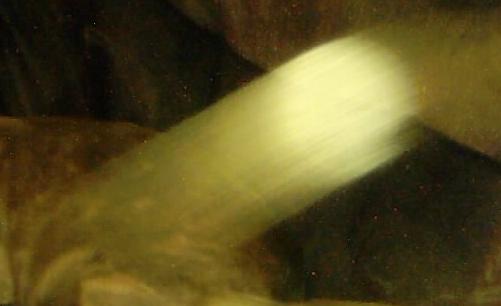 I actually shot only 1 orb with my Trust FamilyCam digital camera ... So this was the first AND also the last one with this camera .....
---
No no ... The story isn't on it's end yet!
..... Who thinks that this story do come on it's end right now ... Well no ... Actually not! Since that orb I shot, even more things started to happen ... REALLY much more! And than to think about the fact that I never though I ever would get such an orb on picture, or that they really could tell something, 'cause, allthough I nearly was sure about the fact that it was (and is) an orb which is on that photo I shot and I also knew it SURELY had to do something with Beauty, there still were any hasitatings, 'cause, how is that possible?! Because further on I never shot any orbs anymore with my Trust FamilyCam .....
Still I started to get an unconsiously eye on those kinds of energies and that brought me to several special, but sometimes also the most idiot and bizar situations .....
---
Ecto versus a friend who suddenly became pregnant after 1.5 years!
... One of the most bizar, but also special things too which I came into after I shot that only orb on the picture was the next thing ... I have to tell you at first that I actually didn't know that much about orbs on it's own until than, or how others just saw them like ... Further as knowing someone who has a few orb photos on his website and who was a member from the CMD (Communication With Animals) group where I was a member too in that time, I didn't go either! And probably there should be more websites about orbs like the site of this person I already knew via this CMD group, but I didn't know them ... The first person who did know just a bit more about orbs actually came only 10 months later on my pathway or so ;-)
But well ... One of the most bizar, but also a quite beautiful and special situation, happened on May 22 2004 when a friend of mine came overhere with her husband on a belated birthday visit and we just were nicely outside in the garden drinking some coffee and a piece of pie ... After a while having a nice talk with each others my friend's husband decided to go tanking in a gass station in Belgium, 'cause, Belgium only is 10 minutes driving by car from my place and yeah, the gasoline overthere is much cheaper as overhere in the Netherlands, so, it's always the same with this friends to go to fetch gasoline in Belgium when they are with me or with other friends or with my friend's mother who all live in the same village as I live ...
So my friend's hubby went to Belgium to fetch gasoline overthere, so we had the kingdom for ourselves for a while just being friends among each others somehow said like that and suddenly my friend started to tell me that they (her hubby and she) were trying for already about 1.5 years to become pregnant, but again and again it wouldn't succeed and because my friend is a diabetic, it wouldn't be that easy and she also told me, that if it wouldn't succeed in a normal naturally way plus a hormonal treatment, they had to get an IVF treatment ... She told this to me in that period of time her husband was gone for a while 'cause her because for her husband it was emotionally too hard to hear that same story all the time, which was underatandable.
I still know this like the day of yesturday ... We just sat there in my garden and she sat on the left of me on my round garden table and the sun was shining in a nicely way on her and it was rather warm weather. So I looked to the left and I felt really much energy, what was going together in a somehow merging way with her aura, but though it was sparkling, like if it all were small parts and between all this I felt an energy goinw slowly around her like a feather or leaf, that felt somehow the same as with those orbs on photos which I have seen and read before and so also with that orb I shot myself on picture! It was a quite young, new and somehow without experience being energy and I don't know how I can describe this in a better way actually, if I have to convert that energy to an image, which I already do automacly, than it was a kind of soft white mist where something very brights was in it, if it was an orb, it just felt the same, and it was turning very slowly moving around her in this mist which was around her aura and I did get an image through of a little girl's face which appeared in that mist ... So I said to her "Gosh, don't worry at all huh, you'll have a baby next year before April and it will be a little girl!"
It was September 4 2004 or so, I was in Vught, and I did get an e-mail, from which I was checking it from on the site ... I saw the senders andI saw the subject "Bericht" (which means "Message") and I said to one of my friends overthere (right the same one as where I shot that orb of Beauty's in her home): "Gosh, I do have here an e-mail with the subject "Bericht" (so "Message") ... I guess in that e-mail there will standing the message that my friend is happily pregnant for several weeks!" ... Before I opened this e-mail I already knew that she had to be pregnant for AT LEAST about 11 weeks, but I did open this e-mail and in there I read the message that she already was 13 weeks pregnant and that they would expect their baby in March!
On March 17 2005 their daughter came healthy and well on Earth ... When you count from March 9 months backwards, than so you'll get 1=February 2005, 2=January 2005, 3=December 2004, 4=November 2004, 5=October 2004, 6=September 2004, 7=August 2004, 8=July 2004 and 9=June 2004! I know, that a soul at first will hang around for a while around an eventual future mother before it goes into a new body (so incarnates), and this can be variable from the average of 3 months before the deed until on 1 week before the deed to say this in a neatly way ... When I was able to see this beautiful phenomena, was 1 month before my friend ACTUALLY became pregnant .....
Together with the experience I had that one morning around 4 o'clock, just 1 week after Beauty was mated, whereon this experience reminds me quite much 'cause I suddenly realized that it was ecto what I've seen that morning and that I LITURALLY saw coming new life into Beauty, I started to see several things, like par example abortus, though in another way! Because it's so UNBELIEVABLY BEAUTIFUL you are allowed to see this that there's coming new life! Actually it is as beautiful as a labour ITSELF!
---
The shooter which helped doggy Trixie to pass over ...
Before that I did get an orb on the picture by myself, and even before I actually did get something with orbs, I surely did have experiences with the energy balls and the transport balls which can be made by some extra terrestrials (like par example Greys) and extra terrestrial esotheric creatures! I already have done, because for the preparence for the first symbol of Part 2's inauguration which is just a kind of spiritual self study I do, and this one was on December 4 2004, a mumber of channelings and guided projects in 2003. I only never realized myself, that this actually were orbs TOO, I saw them more like energies in a shape of balls ... Until December 27 2004 came .....
On the 2nd Christmas Day, December 26 2004, I was at my parents' place being there for dinner, nice together with my grandmoms, my granddad and my stepgranddad and my parents did have a "boerenfox" doggy (so liturally translated as "farmer's foxhound" which are actually breedless doggies but mostly with the same sort of typical recognizing points from the outside as in the character, so it isn't an official breed, but you surely can see them as a breed!) which name was Trixie. Trixie was in that time already an old doggy and she already was suffering from cancer for a quite while, and on that 2nd Christmas Day she KNEW, that she wouldn't live that long anymore ... Her body was worn out, but her spirit still was vivit and didn't want to go, 'cause Trixie and my dad were an inseparable couple. The farewell which she took from each of us on December 26 2004, was so unbelievably beautiful! How hard it was for her to walk, she came, before we went home, to each of us and thanked us one by one by a little push with her nose for having such a nice and warm life ... As my parents as I knew that it wouldn't take that long anymore before she would pass, so I told my parents that when they did need me, I would be there! Well, the whole channeling scription you can read beneath How spirituality came on my own way ...
On December 27 2004 in the morning around 2:30h. I went to my parents, who lived in that time in the same village where I live too, through the freezing cold weather. It was hard and it was difficult and emotional, but in a somehow way so UNBELIEVABLY BEAUTIFUL too!
My dad already sat on his office chair for a while being a guardian over Trixie which was in her basket in the kitchen ... She was breathing heavily and she couldn't come out of her basket anymore and it really was so hard to see, 'cause she didn't want to go! My dad couldn't let her go, so it was a somehow hard job actually ...
At 4:50h. in the morning, 6 protectors (where of 3 of them were my spiritual masters and actually they are half-Light creatures/Archangels) went on standing in front of the kitchen, over the whole kitchen's length and they started to send Light-energy. All this I could see by images ... In the middle of the kitchen my head guide Cioaing and I made an energy pilar and so Cioaing was standing in this energy pilar and pulled the protectors' Light-energy, the energy pilar's energy, together with the energy which was created by some good esotheric extra terrestrials through his esotheric body and I did get the image how that happened, how a yellow/white pulsing ball of light of energy was generated through his body and in what way this ball of light went out from out of his 3rd chakra I saw also still in images, but I LITURALLY saw this orb going as a yellow/white shooter from out of the middle of the kitchen in the direction of my father which was a guardian for Trixie and to Trixie and it went just into Trixie's body in a shooting way! This "scene" only was "played" within a very few small seconds and it really was going in a hard way, but it was cool to see all this! When I saw this, I knew it wouldn't be that long anymore that she would pass to the other side ...
... Only 5 minutes later, at 4:55h. in the morning, she passed ... I realized myself that this shooting orb (shooter) helped her passing over, but how and what? I understood this later on ... It was an orb containing a synthese of positive energy which helped to cut the soulcord, so the golden cord, through .....

Doggy Trixie which ashamely only became 12, but she had a REALLY good life at my parents' place! This picture I shot on December 26 2004 around noon, only averagely 15 hours before she passed away .....
---
Oh oh oh! 4 orbs above my cat ... LOL!
It was somewhere around March 22 2005 when I nicely sat on my sofa at noon time and I just was listening to some music having a cup of delicious Senseo coffee ... My kitty Cheeta who bumped since July 2004 as a 16 weeks old kitty into my life, was nicely sleeping roled up on one of my dinner table chairs like cats do that in an often way ... Outside it was a rather good weather and my doggies were all lazy too, saying it in a short way: just a nice and easily going little day ... Until I did get a strongly needful feeling to look to the right and though to Cheeta who still was nicely sleeping on one of my dinner table chairs! Why? I didn't know that, but in an automaticly way, I did it ...
... Above Cheeta I felt a quite recognizable energy, an energy of something young, something new, actually the same kind of energy which I felt on May 22 2004 when my friend and her husband were at my place! Finally I actually could feel 4 energies above her body! I closed my eyes, and immediately I saw the image of Cheeta who was roled up overthere and above her I saw 4 of those somehow grey/white transparant balls, somehow as big as an average hand without fingers in radius, and they were turning around (just moving) somehow 10 till 15 centimeters above Cheeta's (mainly) belly, really softly and slowly like planets which are turning around the sun ... Off course I didn't have my camera near me and even than it's the question if they are showing themselves up on the picture, because those orbs can switch in a fast way too ... I thought: "Oh no! Gosh no! It won't be like that ... Not AGAIN! Oh oh oh! I think this will after 8-9 weeks JIPPY! He becomes a daddy ..."
I called my friend from Deventer by phone (yeah right, just the same friend as where I shot this bright orb in her living room!) and I told her what I just saw before ... It was strange to me that Cheeta had been away for a very long time the times when she was out the days before and male kitty Jip, who was the kitty from the neighbours who live 2 doors from my place, still was quite often in my garden ... "Oh" she said "if you see orbs or other funny things, than someone is getting pregnant, so it won't that strange for me at all that your kitty is in a happily pregnancy of a bunch of lovely tiny kitties ..." Whereone I said something like "Gosh, shut up you will, that would already be the 7th pregnancy I have foreseen this year! And it isn't that jokeful for me at all, such a litter of kitties, 'cause where I'm gonna let them?" My friend had fun about all this ... I actually didn't have that much fun about all this actually ...
Not a long time after this I did get a forecasting dream too wherein I saw a litter of kittens ... One of them was looking axactly like father Jip! Well, in my opinion it was strange though, 'cause Cheeta probably was in a silent heat, 'cause she wasn't that loud at all so I even let her out on that 22nd in the afternoon, and yeah ... Than it was strange to me that Cheeta was out all the day, until I went on hanging out of my window to watch and I thought "Ooh NO huh! Jip the neighbours' male kitty from 2 doors from my home is sitting on Cheeta and she even seams to like it too?!" When I went to this neighbour to ask him more about Jip if his little Jip was nutered he said "No, and he has been jumping on yours for about 3 days" ... Well there was a somehow luck that she wasn't yet into her strongest heat, no ... That came on the day that I started to keep her inside, the 23nd, so that was day 4 and it kept on like that for about 5 days (a cat averagely is in heat for about 9 days)!
The only thing which doesn't fit at all in this story is the fact that she kept on having a severe heat until 5 days after that 23rd (so 5 days after that 4th day) and now I watched and read on the internet that a cat's heat has to be gone or less within 24 till 40 after a successful mating, well, that mating was successful and I was sure about that 'cause I heard her crying very well overthere outside, but still ... Though again, maybe Cheeta would be one of those exceptions on all regular scientificly laws, overhere it all is one exception, like Jessy who had a litter of 6 puppies for the first time and Beauty on who you couldn't see that she had 2 puppies in her belly LOL!
... I actually hoped in a sneakful way that Cheeta wouldn't get any kittens, but after all those things I had been through with orbs and ecto, I started to get such a feeling that Cheeta would be a happily pregnant kitty .....
---
... And than I did send at once an e-mail to someone who knows more about orbs ...
... The co-incidence was there, or actually it wasn't that co-incidental at all, but it completely had to be like this, that I did get an e-mail from someone who send it to a Dutch forum about spirituality, SpiriGroei, where she was a member about a broadcasting about orbs on Ridder Radio (which is a Dutch internet radio station where they broadcast programs about spirituality with also music), where there would be a guest, someone who seamed (and also do) to know a lot about orbs and who has even a lot of knowledge about photography too, and who was going to tell some things about orbs in the radio program Dossier Q ... Actually this also was around March 23 2005, and I was lucky I found that e-mail on time in a somehow way, otherwise I would have missed that broadcasting, gheeh!
Well, it was a really interesting interview which was in Dossier Q (nowadays, this program doesn't call Dossier Q anymore, but in that time it still was called so), and so I went to the site about orbs which I heard it passing by on Dossier Q and I went there to watch and read several things ... I read there about forecasting orbs and several other light phenomenas and so I found out that it was the website of that someone who had been in the Dossier Q program, but still those hasitatings ... SHOULD I send him an e-mail or SHOULDN'T, 'cause well ... What does that picture with that particular thing mean? But yeah ... After all those experiences I wanted to know it too! And as curious as I am, so I wrote the website maker who knew (and do know) more about this an e-mail ...
So I wrote down this e-mail to this person with the subject translated for you as "Orbses or not?" ... For privacy and safety I erased the e-mail addresses .....
----- Original Message -----

Sent: Thursday, March 24, 2005 11:31 PM

Subject: Orbsen of niet?




Hello ;-)

Gosh, I was nearly in my speakers & screen when you were in Dossier Q's broadcasting ow Ridder Radio, really cool!

Still I want to know several things more ...

First about strange phenomenas ...

Last year in April I got a cheap Trust photo camera as a present already for my birthday (a Trust FamilyCam) and I off course was really happy and off course I shot a lot of pics with that thing, my first digi, normally I work with analogues, but as like you already said, the film roles and the developing is expansive and it costs a lot of time, this you can put on your PC and voilla you've got uploaded your pics ... It shoots outside much better as inside as you can see on the quality ad the colors it isn't the best one at all ...

On that moment I shot this pic I just did got it from friends in Zwolle and I myself was on a visit with my doggies in Deventer at another friend's place where I was sleeping several nights. Beauty, the doggy on the right which you can see, was mated not that long ago and so it was exiting if the mating was a succeeded one ... Until I saw this pic ...In a somehow way it has been eased me up than ..... Why, I do have ideas about it though, but I let you give your opinion being someone who knows more about all this ;-)

It IMPOSSIBLY can be back light, I shot this pic in the evening near 10 o'clock and so than it was dark outside. It couldn't be back light from the light either 'cause that thing hangs between the coffee table and the dinner table and I EVEN was in the shadow of that thing ... To make things clear, I attatched the original unedited picture in that way I didn't edit the colors and the enlightning, I only enlarged the phenomenas, the other picture I have edited it a bit and I discovered 4 energies, but there are persons who do discover 5 or even more ... Now what will this be ???

In a further way I'll give my opinion about orbs if you want to, but first I'll just wait on your answer in an easily way. I can imagine myself that you are busy and that you are just typing your fingers some blue on that many e-mails you receive, but whatever ... If the photos just aren't orbs at all or other light phenomenas, than I also can live in peace with that ... What captured my eyes though on those pictures (just see the zoom left below), but I have been discovered that later on, is that Beauty did get 2 puppies finally ... I see 2 energies right above her head, just beneath that "fast" orb ;-) I did have seen those 2 energies on the moment I already saw that picture ... Seeing it from an afterwards way, it easily is explanable, 2 energies, 2 puppies, but still ... After this one I never shot such pictures like this, this was the only one, snnnnif!

If it is one and it has to be, well I'd rather like to write a little scription about it ;-) Otherwise and in another way it's okay for me too ...

Regards and for now a thank you already!


Marielle
... With this photo as attatchment ...

... Overhere again the photo, but than with the zoomed in parts left below and right above with the most important energies ...
Saying it in an honestly way I never thought I would receive any answer from this man who do know a lot about orbs actually, 'cause this man gets hundreds of e-mails each day all about orbs and I honestly thought something like "Aw gosh, he just will think like again such a fooly freak who send me an e-mail about orbs!" ... But ... Not that much later I actually did receive an answer from him!
He wrote me back that it was clear for him that we were dealing with a marvellous light phenomena for about 99%, and also that you can put away that one per cent only to be sure if it was not! Further on he wrote in this e-mail that he ashamely didn't know (because of missing the metadata) what the shutter's speed was where the picture has been made with, and he didn't know how much light the flash was giving, but he also wrote down that this surely is more as a rather 1000 times more as which a normal lightbulb is, and I alreeady did know that in some way, 'cause if you are just taking pictures yourself a bit for a while and it will happen sometimes that you take a picture towards the light of a lightbulb, than, the light of that lightbulb will be decreased by zero because of the light of a flash which is stronger, especially if this lightbulb is within a specific reach of a few meters of you! So me MYSELF did (and do) already have yet some practical experiences with it, besides this fact I already knew, that lamp was hanging behind me ;-)
Further on he explained me in this e-mail what he wrote to me that the orb seamed to go in a diagonal way and he could see 2 round shapes when he watched it more closer in a first inspection, with further closer inspection more, but in his words, those two clearly shapes could be lead to the 2 puppies! And in the world of orbs this is a so called "Orb in motion" or just a moving orb. He further on explained to me that you often get to see more balls in this kind of "ways" which is made by the orb, of where you could have the possibly thoughts that the speedness isn't constant, but changes in an abrupt and suddenly way, which can't actually happen in the Earth physical way 'cause everything has a massa. The so called kinetic energy, the term they use in physica though ... I know somehow from out of my own experiences, that when something seams to have no massa, or it has a massa which is that less that you better can speak about an energy, that this theory doesn't always have it's force on this ... On the first hand there is a possibility that you'll deal with things which are on Earth weightless and which do automaticly gets it's shape to a ball (just watch to a little pond of water in space) but which can be on the other hand so powerful in an energetic way that they don't disturb themselves on the Earth's G force, they can move themselves "through the G force, no matter if it's there or not there" to where they want/like to go and principly they too can get any shape they want, but in this case they comprimated themselves to a ball, 'cause balls are easier to move and more airodinamic as long and angle like objects, it seams to be a bit a dualistic theory, but ... I later will come back on it 'cause I like this subject ;-)
His eye captured also something else further on, and that was that there is a hole in that bright orb right beneath and he wrote to me in this e-mail that orbs with such holes often want to warn you for something, like warming for things which could be happening in the future, but in this case you rather better can speak about a forecasting orb, in my situation that there would be a litter of 2 puppies born, 'cause yeah ... A dog which will get puppies that always is something positive, especially if you are expecting them! Besides all this in his opinion this was a marvellous photo !!!!!
... I TOTALLY was HAPPY! To me it was so special that I did get an orb on a photo ... AN ORB !!!!! I NEVER EVER had an orb on a photo until than, and now I HAD one! WOW! And even one which had a message within too!
---
My second digital camera which I gave myself as a birthday present ;-)
... And so it happened that I discovered that my kitty Cheeta was having a happily pregnancy yet, 'cause her belly was becoming larger and larger! In a meantime it was half of May 2005 and my birthday just was passed by and I had earned my vacation wages, so I decided to buy a better digital camera from that money at the Kruidvat store (which is a sort of Dutch drug store/super market), and so I purchased myself a Kodak EasyShare CX7300 'cause it's easy for me to use this type of cameras and besides that they have a nice LCD display! My friends from Vught do have a simular like Kodak too and once I worked with that thing, but, I couldn't get any orbs on picture with it .....
I honestly too thought that it would stay with that only orb I shot, once in that time I wrote down the next thing ...
"But maybe orbs do have in a someway connection with it, maybe it does for me, 'cause this funny thing is, that I after this picture and before this one I never shot any orbs! I wasn't really searching for it in an active way, but still ... I surely know that this swee little orb on the picture, what this man I send an e-mail and who looked to it from out of an scientific photografic perspective while I just focus and feel what comes in, wanted to tell me the news that my sweet Beauty-doggy surely had 2 puppies in her little belly, and that's cool! That sweet little orb I will keep that one long in my thoughts, like other orbies which I ever will be able to see, or I won't, who will tell me this, but one thing is sure ... The people on Earth still have to learn much, 'cause for me, Earth science doesn't exist anymore already for a long time ... Science is in my opinion something which isn't prooved yet, that they have all rights of existing and besides this things just ARE invented before they actually will BECAME an invention ... With those words I'd like to close this piece, just a little piece with just a few experience (but I've got the idea that those experiences will be more) about orbs ..."
But well ... So with a lot of encourage I bought a Kodak EasyShare CX7300, also because I wanted to have nice pictures of Cheeta's kittens, And so I went home with a camera, I put the batteries in it, configured the date and time and I went on shooting pictures ... And what happened than ... You won't believe that at all!
---
... OOFFFF! REALLY REALLY MANY ORBS LOL!
Well yeah, and so I shot some pictures of my living room and my pets, and also I made a picture of a picture of Muppy and I and after about 10 pictures I went on uploading, 'cause there wasn't an SD card in it so it fastly was full of pictures ... I went on uploading and what did I see on that image?! ORBS ??? Yeaheah !!!!!!

... Allthough the flash reflects a bit in the picture, you can clearly see an orb between Muppy's little eyes!
I immediately put my camera on again and I pulled it from the USB cable and I went on shotting pictures in that corner in a further way ...
... The first picture there were 3 orbs on it ...
... The second picture there were 10 orbs on it ...
... The third picture there were 15 orbs on it ...
... The fourth picture ... Than there suddenly were 23 orbs on it !!!
Man oh man what kind of camera I purchased myself right now than?!
That thing shoots orbs in sworms !!!
What actually WAS the matter with all those orbs?!
... And I hasitating if I should buy that camera or not ...
Yeah well ... Off course I immediately send several beautiful pictures to this man who told me things before about that specific orb I shot with my Trust FamilyCam, gheeh!
I still don't understand any (...)ing thing on it, but though it's so beautiful! In a meantime I already shot quite a lot of sorts, shapes and kinds of them where you can see overhere beneath a compilation of it, gheeh!
... So overhere the 4 compilations of photos with some orbs which I shot in some period of time! The first 2 compilations are photos I've been made in my living room, the last 2 compilations are photos I have been making while I was doing the Veldhoven project!
Those compilations above are just a fast flyby on the many orb pictures I already have in a meantime! Because, since I had purchased my new Kodak EasyShare CX7300 digital camera in May 2005, I kept on shooting them! And I can tell you, shooting orbs can be REALLY addictive LOL! So, I just call it an o(r)bsession, gheeh!
Now you can say "That girl is crazy!" Well ... My Vught friends do have nearly the same Kodak EasyShare, only they have a model whith more functions on it and in a somehow a different type, but on the outside it's looking EXACTLY the same as mine, it has THE SAME parts, it has THE SAME kind of lens, but it DOESN'T catch ANY orbs ... How can that be? In the Weert project I was working for someone who has a digital camera too, but not a Kodak EasyShare CX7300 ... She DIDN'T get ANY orbs with it, until I went on shooting pictures with both cameras on the same time ... Than she did get on 1 photo, which I shot with her camera, 1 orb ... Well how can that be than?
---
And than ... My cat did get 5 kittens!
Well, we had to wait a while on when my cat Cheeta exactly would have her kittens, but yeah ... Though I did see 4 orbs above her and I had a dream about at least 4 kittens ...
Finally there were 5 kittens born on May 26 2005, gheeh! Jessy and Beauty had been acting like worthy "aunts"! And they were there with Cheeta, like I was, nearly all the time when Cheeta was labouring! I even helped the first one out like I did this too with Jessy's labour, but with Beauty's labour, Charlie was faster as I was and it became the 2nd one where I had to help her a bit LOL!

Cheeta with 5 kittens which were nicely drinking their milk from mommy ;-) And as you can see they did enjoy it and mommy Cheeta was really sweet to them!
It was indeed: "Jippy! He BECAME a daddy!" BECAME, 'cause one month before Cheeta did get her kittens, Jip was hit by a car and ashamely passed away ..... The most funniest thing of all was the following thing ..... There was one among them which looked like father Jip in an EXACTLY WAY!
The first 2 were males, the 3rd and the 4th one females ..... And the 5th one, last but not least ... A male which was simular like Jip .....
... 4 orbs ... 5 young kittens! Life can be so COOL fitting together !!! And AGAIN those orbs huh! What WAS up in all ways with those orbs? WHY did they came on my pathway ??? Why JUST than, and not earlier or later? And ... Did my spiritual development have something to do with it? Still I can't give on this a complete answer, I only can guess to it, to think about a theroy ... Nothing more and nothing less .....
---
... WHY there came all such beautiful things on my pathway since March 5 2004 like orbs and ecto? In a meantime I already forecasted 7 pregnantships since than ... With a few ones of those pregnantships my head guide Cioaing was the messenger (like he does that more often though!), but with a number of them he also wasn't, but it were orbs or ectos which warned me, but, why? On e certainly moment it was that worse that I even changed my MSN screen name into "Just watch out women that I don't see any orbs around you, gheeh!" or something like that LOL! In a somehow way I became a little bit nuts about it, ghehehe! Because on the first hand it off course was funny, on the other hand not everyone was that glad with the fact that I saw something again, or felt a clearly energy of orbs and/or ecto around a certainly person, but, it just came all on my pathway and it was ALLOWED to come on my pathway, in a somehow way, but, why? I only can give my opinions on it ...
1. Harmony
There is harmony, and this keeps a bit the atmosphere in the neighbourhood a bit into balance! My clanny and I live together in harmony, allthough some of my neighbours do think differently about that sometimes, but they rarely come in between those 4 walls from where much happens on the internet, like other projects I do, etcetera ;-) If there is a sticky atmosphere outside overhere (what sometimes happens, 'cause the opinion of the mainly group citizens in our village is that it's an "urban with problems"), than, the orbs are all inside overhere and they will go out again if peace is there again and they "repair the harmony" again! When there is disharmony in my home, I DON'T GET ANY orb on a photo!
2. Leylines and leycenter
The houses of mine and of my direct neighbours, are on a point which EXACTLY is between 2 churches sky wide! And well, a Roman Catholic church and the Protestant Christian church! It is very common that churches and temples often were build on leylines, even our mill overhere in our village is build TOO an a quite strong leyline going from West to East whereon those 2 churches are build on too! Leylines are a kind of "chakra" lines of the Earth from where positive energy comes free! Besides this, there are 2 Maria chappels in my village of where one of them isn't that far from that quite strong leyline, the other one is in the neighbourhood of another strong leyline which goes from the North to the South and which goes through grave hills TOO! The crossing point between those 2 leylines is EXACTLY between those 2 churches, and we discovered by dowsing that that point has to be in my hallway, gheeh! So the leycenter :-) Besides that there's a 3rd leyline going, actually a weaker one, but that one comes together TOO with the 2 others in my hallway ..... Before 1984 when there weren't houses yet, it was a farmer's land overhere ... It won't surprise me as there have been ever crop circles! Actually this is a "little temple" on it's own, so what our neighbourhood an "urban with problems"? Our village should be content with those information!
3. The Bergeijk project ;-)
Overhere we did an experiment with orbs, just because there are that many of them overhere! It's rather funny, but on the same time quite BEAUTIFUL too that on 2 photos which were taken nearly on the same moment of time (there only is a range of a few hundretdst seconds between them, but enough for an orb to move itself to another direction!), that there are EXACTLY THE SAME orbs on it, even shot from out of 2 different perspectives, gheeh! I'll come back on that some later!
4. My own spiritual growth
Because I did get since December 4 2004 my first inauguration of Part 2 of my spiritual self study which I was allowed to get, I went on growing still further and a one and onother on things like energy levels have been changed! I do have the idea that those changings for preparences for this inauguration had been started since January 2003 .....
5. Changing of Earth-atmosphere-frequencies!
Besides all this, the atmosphere overhere on Earth is changing too! This is getting higher and I strongly have the idea that we ALL are making to be ready for par example to see our head guides in the future as if it is the most normal thing in the world, and that we just can SEE them liturally standing beside us ;-)
What it may be with our sweet orbies around us ... They ARE, and not for nothing! Sometimes they want to tell us something, sometimes they are celebrating a party with us and they show us that they can have a sense of humor TOO, that they saw things happen, or they are there 'cause they feel themselves comfortable with a certainly person or on a certainly place! They protect, they recover and ... Not everything has been said yet about orbs, nore that everything is known yet about them!
Orbs ARE ... But ... What are they actually? That I'm going to try to explain this beneath the following link ... What are orbs ...